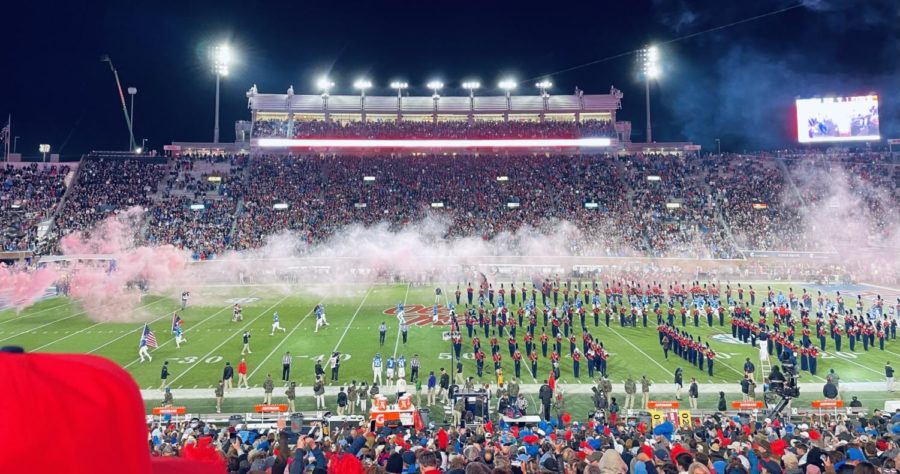 College Gameday has arrived in Oxford after 7 years, in which the 11th ranked Rebels upset the top ranked Alabama Crimson Tide team in 2014. The famous headgear pick by Lee Corso would favor the Rebels this time around, as last time the Crimson Tide were picked to defeat the Rebels. The 11th ranked Texas A&M Aggies would visit the #15 Rebels. Ole Miss would climb one spot in the CFB Playoff Rankings after an unimpressive win to Liberty one week prior.
The Rebels would start the show off with a bang, scoring a field goal and touchdown on back to back possessions to open up the game and promptly lead 10-0. The Rebel defense would be the star of the first half, forcing the Aggies to punt on their first five possessions of the game. The Rebels would cough up the football deep in Aggie territory, followed with a field goal to make the score 13-0 in favor of Ole Miss. The Rebels would drive down the field on almost all first half possessions, but Corral would cough up the football on a sack and the ensuing drive would result in a turnover on downs on fourth and goal on the Aggie 1 yard line. The Rebel defense proved once again to show dominance in the first half, stopping the Texas A&M offense in the backfield to force a safety on their own goal line. That would conclude the scoring in the first half with the Rebels on top 15-0 going into halftime.
The Aggies would open up the half as Ole Miss started the game. They would kick a field goal and score a touchdown on back to back drives coming out of halftime, narrowing the Ole Miss lead to 15-10. The Rebel offense would finally get something going, but Lane Kiffin decided to go for a fake field goal that the Aggie defense would stop just short of the first down marker. With that momentum, Texas A&M would drive down the field and kick a field goal to narrow the score to an Ole Miss 15-13 lead. The Rebel defense would ultimately hold off the Aggies late in the game, coming up with two crucial interceptions. The first interception would come deep into Texas A&M territory, and the Rebel offense would cash in on a touchdown from running back Snoop Conner from 13 yards out. The next drive would ultimately ice the game, as the Aggies would throw another interception, but this time the Ole Miss defense would return the turnover for a touchdown. The Rebels would gain all momentum, going up 29-13 late in the fourth quarter. Texas A&M would score a touchdown later into the game, but miss the two point conversion. This would seal the deal and the Rebels would go on to win a huge top 15 matchup by a score of 29-19.

Ole Miss Team Leaders:
Corral (QB): 24/37, 247 yards, 1 TD, 10 carries, -5 yards, 1 fumble
Ealy (RB): 24 carries, 152 yards
Drummond (WR): 6 receptions, 49 yards, 1 TD
Finley (DB) 8 total tackles, 1 INT, 1 TD
Costa (K): 3/3 XP, 2/2 FG (33, 32)