Lady Chargers get 'Better Together;' win first state championship
Seven months ago, the OHS girls soccer team had no idea who was going to be their head coach.  Now, they know who he is and they, along with a proud fanbase at Oxford High School, will remember him for as long as they live.
In his first season at the helm of the Lady Chargers, Hunter Crane led his team to do something that no other OHS girls soccer team has ever done: win a state title.
Crane adopted a team philosophy that seems to be similar to what coach Hugh Freeze has implemented in Ole Miss' football program: create a family environment and teach the team the belief that it's not about you; it's about the person right next to you.
"We knew for us to be the best we can be, we wanted them to be more like a family," Crane said.
Crane's group of seniors have been through some good wins and some tough losses, but now they can say that they achieved their ultimate goal.
"They came to me and said that they've done everything they wanted to do individually in their careers except for winning a state title," Crane said.  "I told them that it was on them and they had to buy in and keep everybody together and we were able to do that."
A selfless attitude by the Lady Chargers was a key component all season long.
"One thing that has made this group special was that they put everything aside, all the individual stats … and they really wanted to do something as a team and win a state championship," Crane said.  "If it weren't for them buying into that thought process, we probably wouldn't have been as successful as we were."
This season was full of memorable moments, one of them being eighth-grader Morgan O'Connor setting the school record for most goals scored in a season, with 27 goals.  The record was previously set by Virginia Terry, who had 25 goals.
The Lady Chargers finished the season at 20-5, with a 16-game winning streak to cap things off. One of those wins included a quarterfinals match against the No. 10 nationally-ranked Germantown Lady Mavericks, who put the Lady Chargers out of the playoffs last season.
"We really needed that one; it gave us a real confidence booster," said sophomore forward Ally Shinall about the win against Germantown.
The Chargers came away with the victory, 2-1, and would defeat Saltillo High 6-0 four days later in the semifinals.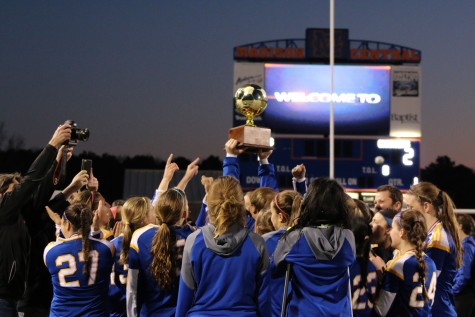 On Feb. 6, the stage was set for Oxford to compete to win the MHSAA Class 5A state title against the South half champions, West Harrison High. The Lady 'Canes struck first blood with a goal from Gabby Vincent in the 13th minute.  The Lady Chargers would strike back with a goal from Addison Mills three minutes later.
Both teams struggled to take the lead after a 1-1 tie.  Then, the Chargers finally broke through.  O'Connor shot the go-ahead score on an assist from senior Zoe Scruggs with only four minutes left in the ball game.
"Mo (O'Connor) has been our number one scorer and I knew that she would put it back in the net for us," Mills said.
With more than half of the roster returning next season, these Lady Chargers can possibly make another run for another state title.  A newly installed team philosophy used this season is very likely to continue for future Lady Charger soccer teams.
"We are all together, better together," Mills said about her team.