Academic team take home first and fifth place at regional competition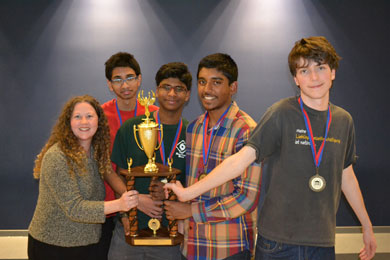 "We are the champions, yes," said one of the Oxford High Academic team sponsors, Shaundi Wall.
In February, the OHS A and B Academic quiz bowl teams took home first and fifth place at the 30th Annual University of Mississippi Academic Invitational Tournament in Jackson. This competition was invite only, and more than 60 other teams coming anywhere from Mississippi, Alabama, Tennessee, and Arkansas participated.
Quiz bowl is an academic competition that tests on subjects such as: science, history, English, math, and general knowledge using a question-buzzer system. Each pair of competing teams has the same questions as everyone else in that round to make it even.
The A team comprised of captain Tamjeed Azad, Lee Brewer, Nitin Ankisetty and Anish Ravishankar beat Clinton High's team in the final round. The B team includes captain Ash Hurdle, Jeffrey Wang, Shahbaz Gul and Isuru Hewamanna.
"What I found interesting is that I was talking to some of the coaches from the other schools," Wall said. "They have classes for this kind of stuff.
"There are some where they meet before and after school, like everyday, and here our kids practice for legitimately 45 minutes, sometimes an hour, once a week, and they beat everybody.
"I think that just speaks to a few things. The main thing, to me, is the amazing quality of the education that these kids have received in the Oxford school district because of their amazing teachers, the dedication of the kids to want to do this, and the importance of education to these kids.
Each team has unofficial, but understood positions for each member. For example the teammate that has more knowledge in English will be their go-to "English encyclopedia," and a teammate having a knack for history or math is that subject's "encyclopedia."
"On the quiz bowl team there is a sense in trust between us," Azad said, "that if we hear it is a history question, that guy is going to get it right for us; an English question, that guy is going to get it right for us; a math question, he is going to get it right for us.
"There is this team bonding that effectively happens, and your trust develops, and that is something that individual competitions fail to develop."
The two OHS teams each played three rounds in the morning and two or three in the afternoon.
For winning, the participants not only get medals, certificates, and the pride of accomplishment, but they can also receive scholarships to take classes as high school students at the University of Mississippi. Essentially studying and learning for quiz bowl can give students opportunities to further their education.
Quiz bowl "is very important to me because I feel like a bunch of this stuff will be beneficial in the future," said Shawn Chao, a member of the A team who competed this year in the earlier Quiz Bowl competition. The more knowledgeable you are the more doors you can open for your future."
This past tournament concludes the academic team's season, but most of the team members will continue to practice by competing and practicing with science bowl.
The day before the University of Mississippi Invitational Tournament, a science bowl competition took place, where the OHS team clinched first place. Many of the students on the quiz bowl/Academic team also participated in science bowl and were there preparing for their quiz bowl tournament.
"Honestly, I didn't feel the gravity of what actually happened until after another day because I was still in the science bowl mood," Azad said. "And honestly, I hadn't thought much about quiz bowl after the science bowl, but we won.
"It was surreal. I didn't think that it would actually happen even though I wanted it to happen."
Throughout the tournament, the hardest round for A team was their quarterfinal matchup, as both teams ended regulation tied at 78 apiece. However, with a 10-question bonus round, the OHS team pulled through and advanced to the next round.
Team B showed camaraderie when they argued in favor of its opponent when the judge didn't give their competition their points earned due to a technical error of an answer having two names.
Of course, being on an educational team like this would encourage one to have some sort of thirst for knowledge.
"Quiz bowl is an incentive to study knowledge because we are working towards a goal, and while we are going towards the goal, we can gain knowledge for the rest of our lives in the process."
Said Wall, "This was the literal portrayal of the importance of education and what an incredible education they have."