REVIEW: 'We Should All be Feminist' humorous, intellectual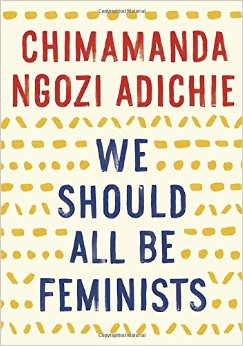 "We Should All be Feminist" is an essay written by Nigerian author Chimamanda Ngozi Adichie, adapted from Adichie's winning TED talk of the same name.
Now in book form, "We Should All be Feminist" is humorous and intellectual. Adichie offers readers a unique interpretation of feminism for today's day in age.  Not only does she focus on discrimination, but also the more dangerous, uniform behaviors that diminish women worldwide, in order to help all types of readers better understand the realities of women's rights and roles, or lack thereof.
Adichie draws examples from her own life and experiences as a Nigerian, explaining why the gender divide is harmful on both men and women.
"It's truly a life changer," said OHS Feminism Club co-president and junior Rebecca Grayzel-Ward.
The presidents of the Feminism Club have been strong supporters of the essay.  Many of the members have read the essay and thoroughly enjoyed it.
"It's a small coffee-table book," OHS junior Laurel Tollison said during a Feminism Club meeting promoting the essay. "The cover attracts attention and serves as a great conversation starter."
Not only has the book had an impact on students at OHS, but also it has influenced people worldwide. Every 16-year-old in Sweden is being given a copy of Adichie's call to arms, "We Should All be Feminist."
The essay is worded beautifully. It is short and easy to read.  An average reader could read its 50 pages in less than an hour.  Although the essay is persuasive, there is no pressure to agree with the author.
The most important part of the essay would have to be the emphasis that feminism is about equality between both sexes, something – which is at the core of feminism – that is often overlooked.
"My own definition of a feminist is a man or a woman who says, 'Yes, there's a problem with gender as it is today and we must fix it, we must do better,'" Adichie wrote in her essay.  "All of us, women and men, must do better."