Death Grips: Challenge to listen to, but worth it with new album 'Bottomless Pit'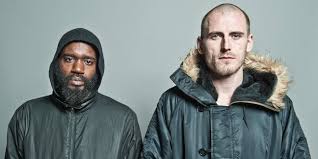 To talk about Death Grips is a challenge since they can be challenging to listen to. For those unfamiliar to the band, they are an experimental rap group from Sacramento, California, known for their experimental and intense music and – warning – is very explicit.  
A good starting place for new listeners would be "The Money Store," which is their most accessible album and can be found on Spotify, Apple Music, and even YouTube. However, their new album, "Bottomless Pit," is already ranking among their best.
"Bottomless Pit" follows "Jenny Death," another album worth checking out, and is possibly their most abrasive work yet. It is certainly a love it or hate it kind of music.  
For those in the "love it" category, "Bottomless Pit" will be quite the ride. From the opener, "Giving Bad People Good Ideas," the listener is kicked in the teeth right into the insane guitar playing and drumming.  A singer takes over the chorus from MC Ride's (their rapper) intense and fast rapping, and makes for a quick break from the intensity that Ride provides.
"'Giving Bad People Good Ideas' is a genius starter for the album; it's a calming female vocalist backed by pounding synths," Oxford High junior Malcolm Gooch said.
The next track, "Hot Head," takes the intensity to a whole other level. For an already intense band, "Hot Head" is likely their most intense track. It goes between a scathing guitar hook and insane drumming with Ride rapping (yelling) about ebola, into a slick and slow bass part with Ride rapping about his lack of a filter (which is true).
After "Hot Head," the intensity continues into "Spikes." It is less guitar and drum inspired than the last two tracks and returns to something less rock sounding. It is very catchy, however, and, like all of these tracks, Ride's lyrics remain very "up to interpretation."  "Warping" follows with similar effects, perhaps ramping up the intensity.
"Eh" is a highlight since it is much more electronic and has a much more relaxed Ride talking about how little he cares (which is true). "Bubbles Buried in the Jungle" ramps up the intensity like a muscle car in a street race. The beat is among Death Grips' best and is one that this author has listened to many times. It is just so scathing in its approach that it is addictive to listen to. It is one of the album's highlights.
"I like the extreme bass and the rapping combination," OHS junior Jacob Sandlin said.
"Trash" is next and is less intense than "BBitJ," but it contains my favorite lyrics on the album as Ride describes everything around as trash (which is true). It has such a deep beat that really drives the song and some very haunting horns in the chorus. It is personally my favorite track on the album.
"Houdini" follows one of the best tracks and doesn't quite reach its heights, but it still gets a bronze medal for getting pretty high up there. The beat is catchy (as usual), and the lyrics remain quite mysterious in Ride style. "BB Poison" is similar to "Houdini" since it isn't a highlight track, but it is still quality that it deserves a mention.
"Three Bedrooms in a Good Neighborhood" is probably my least favorite part of the album; however, it is still just such an experimental and interesting song that it continues to be a streak for Death Grips. In all honesty, it is a rare album with no bad tracks (similar to Death Grips' last album "Jenny Death").
"Ring a Bell" brings the album back up to its second highest point, with Ride actually rapping a part acapella style, and containing such an intense and awesome verse followed by a sly guitar chorus that is likely the most catchy part of the album. It is a highlight on an album full of highlights.
"MC Ride sings on 'Ring a Bell;' it's crazy.  It's so great," said OHS junior Tycho Jenkins.
"80808" lives up to its title with a solid 808 drum beat that is sure to get any car with good bass going crazy. Ride is much more mellow than most of his songs, but the very intense 808 bass more than makes up for it. The final track, "Bottomless Pit," finishes the album on a very rocking note with Ride promising to be good at what he does.  It shows just how good Death Grips can be at rock as they prove again and again, and it begs the question what is next for Death Grips?
DG is known for their surprises, so if we could guess their next move, then it wouldn't really be the same band.  The fun of it is having no idea what is coming next, and, hopefully, their next album will be as good as this one.