Freelon wins gold key in national art competition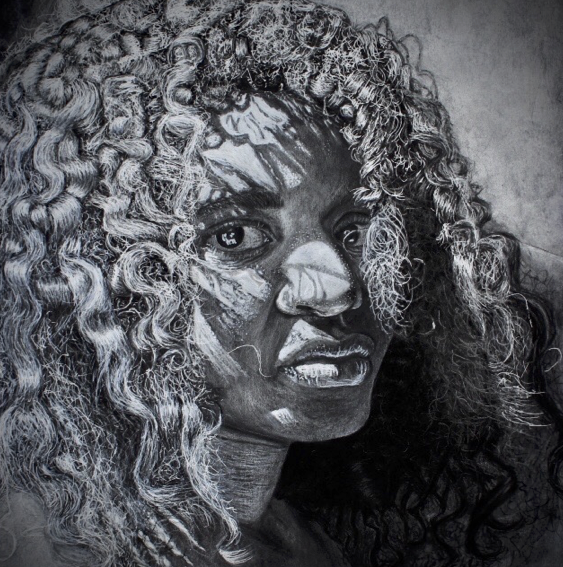 Junior Khyan Freelon won a gold key, the highest award, at the National
Scholastic Art and Writing Competition. His work will be on display at Carnegie Hall in New York.
Students can enter in seventh grade up until 12th. The competition is judged by honorable mention, silver key and gold key.
"They give you these little keys that you can pin on your shirt and certificates," Freelon said.  "Now, I'll be getting a gold medal."
Freelon entered one piece of artwork his sophomore year and received an honorable mention. This year, he was determined to do better and see his full potential.
"This year I entered in like six drawings,"  Freelon said. "So I entered in myself, and Mr. Johnson helped me out."
Freelon won a gold key for his artwork titled "I TOO Am America." He says he was inspired by a picture from a portfolio of a graduated senior.
"Honestly, I just drew from someone who wanted me to do this drawing for them," Freelon said. "It was basically just a senior who graduated last year, Bhakti Patel, and she's a really good photographer, and she let me draw a picture from one of her portfolios."
Art teacher Duran Johnson taught Freelon since Freelon's freshman year. Johnson taught him Visual Art I & II and Drawing I & II.
"He definitely had the work quality," Johnson said. "I was hopeful he would win, but it's hard to expect it because the competition is so great, and you really never know."
Johnson watched Freelon improve over the years. He believes Freelon's dedication to his craft is what has helped him grow so much.
"He researches, watches videos of current artists to observe their technique," Johnson said. "He was always able to see detail, but now he has the ability to capture it and express his own voice through his work."
Art teacher Ebony Johnson announced the list to her students. Freelon said the teachers were emailed a list before anyone found out.
"I was only shocked about my gold key going national," Freelon said. "It's still pretty unreal."
The wait for the awards were around a month or two according to Freelon. He thought it was a stressful time for him and his fellow artists.
"You know I was probably doing like every other artist here, just praying, hoping for the best," Freelon said. "And I knew I would get in, but I never knew I would have an award go national."
Freelon plans to continue working on his artwork and submitting artwork for awards.
"Senior year is different, so I plan on having some more work being done by this year before we start to submit our work," Freelon said.
Freelon also encourages artists to not get discouraged from not winning awards. He believes progress is what helps you make your mark.
"If you didn't win, just keep your head up and keep trying and striving for that award," Freelon said.