'You' captures attention as addictive social media horror story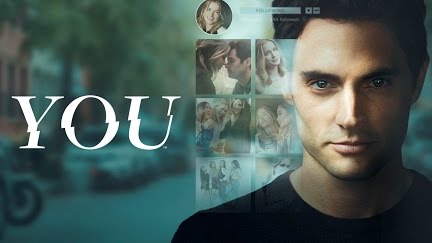 The Netflix original TV series "You," which is based on Caroline Kepnes' book: "You," has gained an immense amount of popularity since it was released in September. The first season of this show, with only 10 episodes, successfully captures viewers' attention with its dramatic plot that portrays an addictive social media horror story.
In order to gain viewers, Netflix created a dramatic thriller, with a horror factor twisted into it. In the pilot episode, lead character, Joe Goldberg (Penn Badgley), who is the manager of a bookstore in modern day New York City, immediately becomes infatuated with graduated student and aspiring writer, Guinevere Beck "Beck" (Elizabeth Lail).
The show becomes a bit sinister when Goldberg's awkward crush on Beck turns into something much darker. Throughout each episode, Goldberg's infatuation becomes an obsession, and he ends up being a murderous stalker, which gives the show the horror that so many viewers crave. Goldberg will do anything in his power to get rid of whatever stands in the way of his "love" for Beck, and he uses social media platforms to gather intimate details and further his relationship with her.
A show like this has huge amount of potential due to America's demand for TV thrillers, exploring the blurred lines between love and obsession, and hero and villain.  Although there are many shows that deal with crime and violence, especially on networks such as Investigation Discovery, this show is different because it is a fictional portrayal of how people can become obsessed, which can lead to violence.
Badgley does a good job portraying his character, shedding light on how easily people can use social media in an intense way. Badgley, has many layers that make him complicated and intriguing. Goldberg is a character that does horrible things but keeps you engrossed. The show is definitely creepy, but it holds the viewers attention, almost as if you can't quit watching.
"You" definitely has so much potential, and I would recommend it to anyone. Badgley has so much to show and captures the attention of teens and adults. As the series progresses, more light will be shed on the reasoning behind Goldberg's actions and decisions. It is an amazing show, fulfilling the wishes of many viewers.