Teacher Feature of the Month: Q&A with Logan Dodson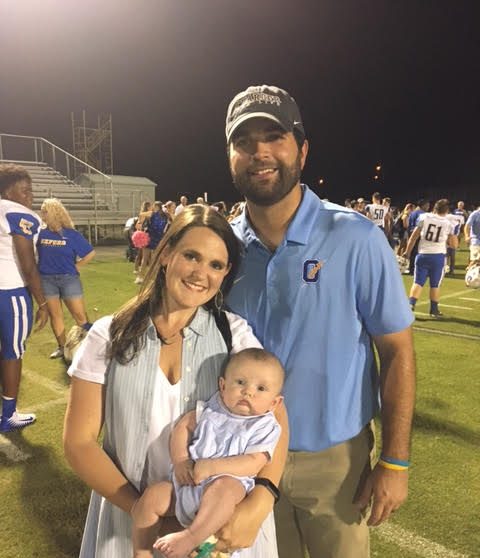 The Charger staff sat down with math teacher, Logan Dodson, who was recently married and had a child, to learn more about his life and the new life changes he has. 
Q: Where are you from?
A: I went to high school in Birmingham, Alabama, but all my family lives in North Mississippi now. We moved around a little bit because my step-dad was in the secret service, and I spent high school in Alabama at Homewood High School, then I decided to come back for college. 
Q: What was your childhood like?
A: It was awesome, you know, I had both supporting parents. It was a bigger family. I had two older brothers that were really involved with sports and academics. When I was a senior in high school, my little sister was born, so she's eight now. She's awesome. She has some difficulties because of being so late. She's autistic, so that's been a blessing too, having two older brothers kinda lead you the way then being able to serve my little sister. We're a really loud family. There's not really a dull moment ever. Mom is really loud, and Dad is really loud. Then, my parents got divorced, and my step-dad has been an awesome guy, as well, as someone who has stepped in.
Q: What made you want to be a teacher?
A: I decided at 14 years old that I wanted to be a teacher. I was a freshman in Mrs. Swift's class, geometry. I liked her organization and how she was very direct. Obviously, I knew I wanted to coach, and I just saw the impact my coaches had on me in high school. I moved to a whole new state and didn't know anybody, and I saw the connection sports made on me in that area. Then, I saw the connection and organization the teachers had, and the impact they had on me, so I can hopefully have that impact on other people.
Q: What made you want to move back to Oxford?
A: The opportunity came back up to teach here, work here, and be on the football staff with some really great guys. Obviously, I want my kids to go to school here. It's a great school system. Another thing is her [Kelsey] being so close to her family. We're 20 minutes away now rather than an hour and 30 minutes. It makes life a little bit easier.
Q: How is it different being a parent and a teacher than it was when you were just a teacher?
A: Being a parent is awesome. It's everything I thought it would be. He's an awesome, I think. He's eight months old now. He's crawling and saying "Da-Da," which makes mom upset but makes me pumped up. You know, I think the biggest thing is time management. I want to give him the time that he deserves and give my wife the time she deserves, and making sure they're top priorities in your life.
Q: How is it working with your wife?
A: I love it. I was so nervous. I was at Oxford before, then we got married. We moved to Hernando, so she could be a Senior Counselor cause there wasn't an available counselor position here. Then, a counselor position became available here, so we took it. Her family is from New Albany, so it's closer. I love it. I thought it was going to be awkward last year, but I think it's a great example. Maybe some kids can see a positive marriage that they maybe don't see on a day-to-day basis. That's really the whole goal behind it. The school is so big, so we really don't see each other that much. I like it, and think it's awesome.