OHS theatre performs "You're a Good Man Charlie Brown"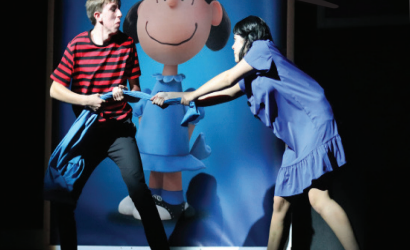 Oxford High School theatre presented "You're a Good Man, Charlie Brown" Sept. 22-24. This musical is the perfect mix of nostalgia and comedy, welcoming for all ages. The show will kick off the start of the school theatrical season and fall as a whole. One of the ways that this show differentiated from others is its pull to the younger generation. Junior Avery Sams was the stage manager of "You're a Good Man Charlie Brown" and is excited to see the community's reaction.
"It's a perfect lighthearted show to open this year's OHS season," Sams said. "It is really going to be a show that appeals to all audiences."
The show is based off of the comic strip 'Peanuts' by Charles M. Schulz, which has been published since the 1950s. The long aired comic has been readapted in a variety of more modern media, including films, TV shows, and graphic novels. The 1950s comic strip has thus become a part of many generation's childhood, and the stage production will introduce it to another generation. The timeless nature of the series gives it appeal to a vast majority of audiences, and is enjoyable for the whole family.
With a younger, less experienced cast, they've had to put in a lot of work in order to do justice to the timeless show. This will be the theatrical debut for many of the cast and crew. The lead role, Charlie Brown, is played by Sam Lewis, a junior and first time actor on the Oxford High stage.
"I auditioned at first because some friends told me that I should," Lewis said. "Once the cast list was posted we started rehearsals. Rehearsals were a lot of fun, getting to know the songs and the members of the cast. And after we knew all the songs we started to stage the musical numbers and all the scenes in between them."
The first show of the season sees some returning faces, and seasoned actors work hand in hand with those first emerging. The work put into this show will set the precedent for the remainder of the year.
"Turning a beloved childhood show into a theatrical presentation takes a lot of time," Sams said. "The cast and crew have put in so much work to make the show magical."
A rigorous schedule is to ensue for those planning to take the stage, and those manning the show behind it. While tiring, it is necessary to take their performance to the next level. The last few weeks are the most intense, as they reflect the final theatrics.
"Once we were approaching the last couple of weeks, it certainly did get tiring, but getting to perform and everything, all the tiredness was totally worth it. And now we're about to perform for the first time and I'm super pumped," Lewis said.