Band succeeds with return to competition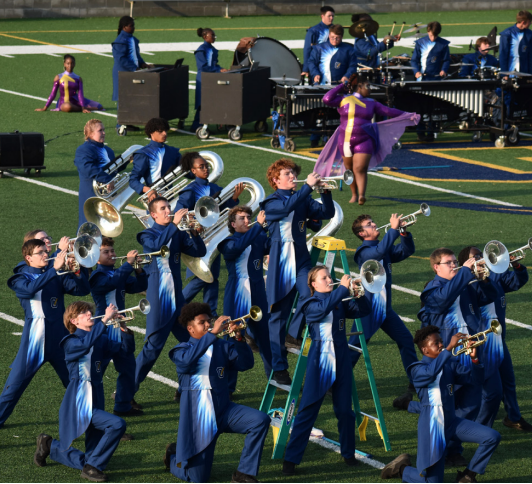 The Oxford High School Band has been working extremely hard to bounce back after the COVID-19 pandemic placed some unprecedented difficulties in the previous school year. The help of Aaron Bailey, the Director of Bands, along with other instructors has helped the band return to their old ways and expect to do well for this upcoming competition season.
Color guard and band member, Megan Colley, thinks that the band has majorly improved compared to last year but is still not as good as they were before COVID.
"I think our band has improved a lot since last year. Although it's definitely smaller, we sound way better. I will say, however, in the years before Covid we had more dedicated members. Now we have a lot of people who don't care as much. We've improved from last year, but we aren't nearly as good as we were in 2019," Colley said.
Bailey also believes that the band is much better than last year but that it is not comparable to the years prior to COVID-19.
"I think the band this year, while smaller than previous years, has greatly improved in their basic musicianship. The students as a whole are more fundamentally sound and we started the year in a much better place than last year. I believe that a lot of this has to do with COVID and not getting to practice and perform much during that time," Bailey said.
It has been a long two year process to get the band back on track, but with help from the hard working students and directors the band has come a long way. Now that many students have gotten more experience marching in the band, the outlook on the upcoming season has become more positive.
"I'm excited by the growth I've seen from the students in terms of their playing and marching ability. After COVID, many students had never marched in an actual competitive marching show. Last year it was like having two or three 'freshmen classes' because many of the students hadn't marched before. This year the students have really begun to march well and understand the marching style better," Bailey said.
Despite a few minor differences between OHS's band and others across the state, members and directors of the marching band are feeling good about this upcoming competition season beginning September 24 at Olive Branch High School.
"I feel pretty good about this upcoming band season. Our show is 6 minutes of marching, which is short for a marching show, but I feel like our band is doing very well so far," Colley said.
While some of the uncertainty regarding the upcoming season being the band size, Bailey remains hopeful.
"Because most of the competitions are divided by school size, and our band is still pretty small, we will enter as underdogs. I still like our chances to do well simply because I believe we will march and play at a very high level," Bailey said.
After all of the band's hard work these past few years a win would be a huge accomplishment, but Colley expresses that the best feeling is just the thrill of finally being able to perform.
"I'm excited to go on the field and perform. The feeling of performing with the whole band after spending hours each day rehearsing is amazing. I can't wait to see the show come together, and perform with this group," Colley said.