Colleen Hoover & her unprecedented rise to literary fame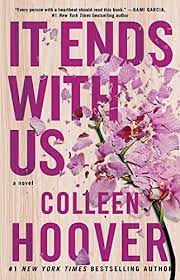 The growing popularity of Colleen Hoover's, "It Ends With Us," has been one of the key factors in generating the TikTok sensation of "#BookTok." "#BookTok" is a niche subcommunity on TikTok in which young adults discuss literature and authors promote their work.
Despite being published in the fall of 2016, this novel's popularity has grown enormously in recent months. "It Ends With Us" is not where the end of her success lies. Hoover published six out of the ten most sold books in 2022 and has now been named a New York Times bestselling author. Just this year, she has sold 8.6 million print books – more copies than the Bible. In total, Hoover has sold over twenty million books.
While reading may be regarded as the world's most timeless hobby, this emerging social media landscape has now made it "trendy" for the time being as well. This puts authors such as Hoover in the spotlight, as the steamy young adult romance genre continues to grow. Known for her emotional plot twists, melodramatic characters, and characters with unfortunate backgrounds, Hoover's writing appears to be geared towards a hyper-specific audience, particularly that of teenage girls. With over 3.9 million followers across her social media platforms, she seemingly aims to grow her audience by posting goofy and self-deprecating videos. The personability that she brings to the table is something that is not often seen in the status quo. It's rare that an author will go to such ends to establish such a connection with their readers.
While many believe that Hoover ought to be applauded for making reading more accessible and appealing to Gen-Z, it can also be argued that the quality of literature she produces is quite low. Her word choice, character development, and lack of creativity in her plot choices make her writing appear one-dimensional.
Additionally, the style of her writing often appears unfitting for the serious subject matters that she chooses to address such as domestic abuse, miscarriage, and sexual assault. She writes about each one with either a predictable silver lining or an unrealistic happy ending. In doing so, she blurs the line between fiction and reality, painting some of the most difficult hardships that life has to offer as simple "bumps in the road." When any author addresses sensitive topics like these, it is critical that they portray people's situations accurately. Providing false representation on such matters can create negative stigmas and interpretations, and invalidate the experiences of those who have been through such hardships.
Despite this, she does emphasize very well the fact that people ought not to be defined by their circumstances. Although all is fair in the name of fiction, framing each sob story with an impractical happy ending is bound to have a negative effect on her young audience. These issues may be stylistic on the surface, but it's important to acknowledge the effect that writing carries on people's perceptions.
It's undeniable that Hoover carries an excellence in storytelling, from novel to novel her plotlines can be seen as repetitive and slightly juvenile. In a Hoover novel, typically a female protagonist will fall in love with a boy, have some dramatic altercation with him, work it out, and they will miraculously end up together. While this is a perfectly fine basis for a novel, it is underwhelming. Because her books are so plot-driven, it is somewhat expected for them to have a strong plot. It's hard to exalt her as being one of the world's best modern new writers, when the level of her writing doesn't quite live up to her fame.
Though her writing has its flaws, she's come to have one of the largest and most loyal author fan-bases out there. Naming themselves "CoHorts," avid readers of Hoover novels always find themselves emotionally destroyed from the intensity of the plotlines and nearly always left wanting more. Thankfully to meet the demands of her growing fanbase, Hoovers has announced that she plans to release six books with three publishers over the next five years. She plans to write three new thrillers with Grand Central, two new romance novels with Atria, and a new novel with Montlake.
Now that Hoover has mastered the art of good-selling book, it is time for her to take her writing to the next level too.