Oxford powerlifting teams looking forward to new opportunities in 2023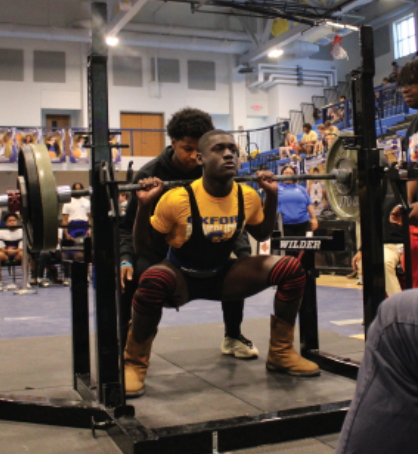 After coming off a promising 2022 season, the OHS powerlifting team is looking forward to winning it all this year. The Chargers finished last season as another heavyweight contender and are looking to repeat the culture but do more.
The powerlifting format consists of getting seven total lifts. There has to be a positive lift on first squat, then bench press, and deadlift. Each lifter has to have one positive lift. If you don't have a positive lift, meaning that you got the lift, then you'll be scratched out of the meet. 
Head coach Issac Boose is in his eleventh season as a powerlifting coach. He is looking forward to this season after an improving campaign last year.
"Last season, I feel like we made big strides. I feel like we didn't completely accomplish what we wanted to accomplish or what we needed to accomplish," Boose said. "I feel like we're on the right path."
Boose also touched on where his team is and who will lead the way for the powerlifting team in 2023.
"We have Brianna Barksdale, Kierstan White, and Sparkle Caldwell leading the way for the girls," Boose said. "On the boys side, we have Ty'K Cohran, Alex Sanford, Malaki Pegues, and Ty Patrick is gonna make big, big leaps this year also."
Assistant powerlifting coach Logan Dodson is in his fourth year of being a powerlifting coach. He is looking forward to this season and the strides that he's seen his team make so far training for this season.
"I thought the girls did really, really well. They really made strides and really improved. And the guys always improve and do better. I'm excited about always getting a chance to compete," Dodson said. "There's always room to try to get better and see what we got. I'm looking forward to this year and where we are. We gotta do better and get better, which we will."
Dodson also talked about what he is looking forward to for the upcoming season.
"I wanna see us compete. That's what Coach Boose says and he has been doing a great job. I just wanna see us compete. I think the girls and guys could have a really good year and that's always the goal – to win a state championship," Dodson said. "I think we got a chance to do it and there's obviously strong people across the state, and I'm just looking forward to it and competing."
Senior Alex Sanford is working harder than ever this season. Sanford isn't satisfied with last season and is looking forward to leading this OHS team to a state title in 2023.
"I think I'm pretty confident about this season. I think we got a few of us that could go to state. I just know we just keep on working, keep on lifting away, stay in the weight room and stuff like that. Stay consistent." Sanford said "This season we are going to stay and get a ring. I'm doing a lot of running. I'm getting back in the weight room. I am doing a lot of conditioning."
As Sanford leads the boys side of the team, the girls are looking towards captain Kierstan White to do big things this season.
"I'm ready for it. I'm looking forward to it. I've been training really hard and I've been working out every day." White said. "Right now, my best lift is squat. I hope to keep improving and getting better."
Coach Boose and the powerlifting team had a great season last year but aren't satisfied with how it ended. The team is looking forward to the 2023 season and are ready to win it all.
"I really think we have a great chance of going to the meet at the end of the season and win the state championship, or placing in the top three at the state championship," Boose said.