OHS Auditorium named after former theatre director Ava H. Bonds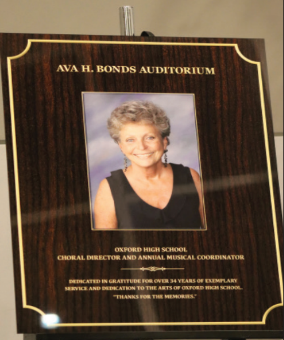 The Oxford High School auditorium has been named the Ava H. Bonds Auditorium. This naming was recently approved by the school board in a unanimous vote, and is to be named in honor of Ava Bonds. Bonds was a music teacher at the high school for 34 years and was awarded this recognition due to her impact on the community and the kids she taught.
Halon Gossett, daughter of Bonds, is very appreciative of this dedication along with the rest of her family.
"All those years of hard work and dedication was a passion she loved and she wouldn't rather be doing any- thing else, so it just shows what all that can accomplish and the people that it touched being so monumental that somebody would want to name something after her," Gossett said.
There was no debate for anyone else about the name of the auditorium due to the input from the community. School board member Carter Myers believes she was the perfect one to name the auditorium after.
"The decision was pretty easy when we heard from the people who had her and knew her and the detailed information that they provided. She was just a perfect fit," Myers said.
Bonds had a huge impact on everyone in the community. Myers hopes with this dedication, people will learn more about her legacy and learn how to have an impact on kids and the community.
"You want to memorialize those people that make an impact but also people who can aspire too. Hopefully this will show young educators the impact you can make on kids and to be remembered even well after you're gone. So I hope not only the community appreciates it but I hope young educators and students going into this profession can as well," Myers said.
While music was one of the most important things in her life, she never tried to force it on anyone or try to make people become involved in it. Gossett saw her mother wanting the kids to have a good time and have fun being in the musical. "She was never strict about it, she was wide open, she wanted whoever wanted to be in the musical to be in the musical. She even kinda tried to form it around the other practices so baseball, football, basketball players could be in the musical. She tried to get everyone involved and everyone had a position in the musical," Gosset said.
Bonds was remembered by many people of the community. She helped impact many kids' lives. Myers reflects on her impact, expressing his appreciation for her role in being an example for future educators.
"I think what you read about her is that she's the archetype of what you want in terms of someone who had a impact on kids and is remembered by many. When you ask teachers what they want is that they want to have an impact on kids but they want to be remembered which she clearly did," Myers said.
Bonds taught a total of 43 years all of which teaching music. She taught 34 out of her 43 years at Oxford, and Gossett mentions how she loved the community and never wanted to leave. "Born and raised in Oxford this was just home. Everyone knew every- one. It was just home to her, she was as respected at church as she was at the school," Gosset said.