OHS presents War Paint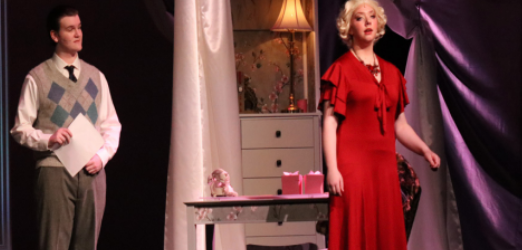 Oxford High School theater presented "War Paint" February 23-25. This was the first musical in the newly named Ava H. Bonds Auditorium. The musical followed makeup competitors Helena Rubenstien and Elizabeth Arden as they built the industry and defined beauty standards. 
John Davenport, OHS theater director has expressed much excitement regarding this play. He has had history with the musical before it was on Broadway while supporting one of his former students. 
"Because we have so many female vocalists, and this was apparent last year, I knew for the next few seasons, our musical choices were going to be very female heavy" Davenport said. "I saw "War Paint" before it was on Broadway. I had a former student working on it so it had an out of town tryout and I went out to see it and I was very intrigued. It was kind of a hot mess of a show. It was a great show but they were clearly still working things out about it and so that was in summer about 4 years ago and the following spring it opened on Broadway."
After returning to see "War Paint", Davenport saw the promise of the show. This is what ultimately led him to choose it for this school year's musical.
"I went back to see it again just to see what all the changes were and it was just so magnificent. When it came time to choose this year I let Mr. Ardrey, our music director, I let him listen to it to see if it was doable because the music is hard and it relies on two female voices that carry the entire show," Davenport said. "He said we can do it and I knew we had some many girls that could do it. I had my classes last year, they read the script and I wasn't sure if they were going to like it but they loved it and so I was like done deal so here we are."
The musical covers a thirty year time span following the rivalry between characters Arden and Rubenstien. Arden, played by senior Avery Sams, is coming back to the United States as she gets back in the makeup business. 
"Helena Rubinstein was born in Karków and she had her company in the United States then she sold it and moved away from the United States and this musical takes place whenever she comes back to the United States hints her first song is Back on Top so she back in the business and wants to rival against the next door salon which is Elizabeth Arden's salon," Sams said.
Sophomore lead Ann Hunter Bigham plays Elizabeth Arden, and this is her second year in theater. Both Bigham and Sams have done research preparing for their roles, and they worked together to get to know their characters a little better. 
"I've done a lot of research. My main research resource is a documentary called The Powder and the Glory and it gave me a lot of insight on both the two women both Helena and Elizabeth, the lives they lead the people and the relationships and how they got their businesses started so that was kind of my big resource," Bigham said. "When Elizabeth sings the song called Pink and it's basically her rejecting all of these ideals and stereotypes that she has been put under."
The hard work and preparation helped with the progression of the musical, and John Davenport believes that the preparation of the leads is especially crucial.
"They've progressed very well. They all got their scripts and scores before winter break. When they came back, especially the two female leads because they're in every single scene and they carry the majority of the songs, those two girls were so far ahead of what we had anticipated just vocally, they knew the music already so we've been able to start ahead of the game a little bit because of the preparation that the four leads have done already," Davenport said.
"War Paint" will be Davenport's 122nd production. He's worked with a lot of students throughout the years.
"I've been here since the earth was cooling so this show is like my 122nd so it's a lot and the thing about it that always never fails is the excitement of them rising to the occasion. They reach a standard that's like once they get to performance it's like they didn't realize they could reach the particular standard that's probably the most rewarding. I do enjoy discovering new talent because with each new show, even if I've known the kid, there is always something new to discover about them," Davenport said.
The musical has been anticipated and heavily awaited by many members of the theater department from potential cast to staff.
"Last year in Mr. Davenport's class we read the show and I went home and I listened to the music from the show and I was like wow this is really cool and sounds really nice and so there was kind of talk about it being a possibility, so from last year I've had my sight set on this role," Sams said. "I was like I really want this role, but there's also so many talented girls in Oxford so I was just like I'm going to prepare for it but if I don't get it it's not the end of the world because the musical is like such a female heavy cast. Ever since I read it I've had my sight set on it."
The musical also has a lot of intricate elements including the costumes and set design, and the play's debut will put these works on display.
"Our costumes are our biggest element of the show. We have so many costumes. We have a guest costume designer from Wisconsin that has designed the clothes because the show takes place in the 30's and it goes all the way to the mid 60's and it's based on real people and most of it is a true story," Davenport said. "It's all high society people of these times. The costumes have to be so elegant and like I said there are so many of them. Our two female leads Ann Hunter Bigham and Avery Sams each have nine costume changes and that's just for one character. The others play multiple characters, so I think everyone in the show at least plays three or four characters."