Oxford baseball seeking a state championship title for the first time since 2016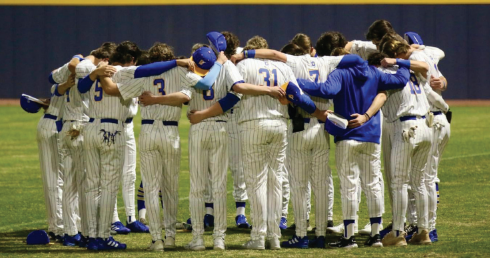 The Oxford baseball team will once again look to compete for a state championship title in their 2023 campaign with high expectations. The Chargers are led by second year head coach Cade Hoggard.
In the offseason, the team relocated to a brand new facility after 34 years. The Chargers finished last year's farewell season at Edwin Moak Field with a 23-10 (7-2) record and ultimately went on to lose in the North Half title series against Desoto Central. 
Head coach Cade Hoggard is excited for the upcoming season after the transition to the new complex.
"It's an amazing facility. This team is a fun group to be around because we were all together," Hoggard said. "Last year with a couple of new faces, but all of those guys were all together last year in the locker room, on the bus rides, everything else and now they're all in there together so it's a much closer group."
Hoggard also talked about how this season will fare with tough matchups throughout the schedule.
"We are gonna be tested from the first game all year. We have a focus from here on out and understand that all games mean something but the early games will get us ready for the district division schedule," Hoggard said. "I think just making sure we keep focus is one of the big things we have to remember. The preparation every day is going to be key because it is tough."
Although there is a lot of buzz around the team, more specifically captain and catcher Campbell Smithwick is one of the must-watch players for the Chargers. He finished last year's campaign with a .432 batting average along with 38 hits, 33 RBIs, 34 walks and 5 home runs in 88 plate appearances.
The Ole Miss commit is excited to see where this season is headed. 
"It is super exciting. I think we have a great team and we are going to be able to hit pretty well. I feel like a lot of our guys worked hard and I am excited to see where it goes," Smithwick said. "It's my senior year and it is a big year for not only me, but all of us seniors. I am excited to lead these guys and see where God takes us this year."
Smithwick talked about what his goals and hopes are for this upcoming season, but more importantly on how everything will happen so fast.
 "As simple as it may sound, my goal is to just have fun. Not wishing the season away and looking ahead to the future," Smithwick said. "It'll be over before you know it. Being in the moment and soaking in every moment in every game. Not taking anything for granted."
Fellow captain and senior pitcher Vaiden Ellis talked about the new facility and how he is looking forward to not only the upcoming season, but the new crowd that will come along with it.
"It is all really nice. I am looking forward to seeing how loud it gets under the lights," Ellis said. "It looks really cool and I can't wait to see the atmosphere that we bring."
Ellis also reflected on what his time as an Oxford Charger has meant to him as he heads into his third and final year with the team.
"I love this team. We have a lot of seniors and people to look up to and we have a lot of juniors who are willing to put in the time with us," Ellis said. "I feel like the culture of this team is pretty mature and I feel like that will help us later in the season with the experience that we all have. I feel like it raises our confidence."
Coach Hoggard touched on last season and who played a big factor into the Chargers deep playoff push to North Half.
"Hayden Campbell came on late for us last year  to give us a spark and to get us to the North Half last year," Hoggard said. "He's a player that really developed and should boost this team in the lineup this year."
Left fielder Hayden Campbell is a four year player that waited for his chance to emerge into the lineup, doing so when called upon late last season. He is looking forward to his final year as a Charger.
"I am most excited about being around everybody and seeing how far we can go as a team. Being a senior, being around everyone last time is exciting," Campbell said. "We are a close-knit team. We all love each other and want to play for each other. It feels like we have a great team and great bond. We are led by great coaches and captains."