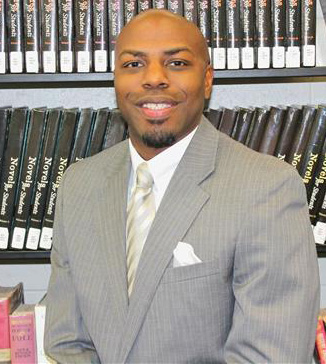 As the new school year at OHS has begun, students may see a new face in the hallways: Assistant Principal Lorenzo Grimes. Grimes will serve as one of the four assistant principals at OHS this year. Formerly, Grimes worked as both an administrator and a teacher at Raymond High School.
With his extensive background in education, Grimes believes he is prepared to take on the role of assistant principal this school year.
"I've been the head principal for Raymond High School for the last nine years," Grimes said. "Before that, I was the head principal at Batesville Junior High, the assistant principal at South Panola High School, and was at Senatobia Junior and Senior High as an assistant for three years."
In addition to his former administrative positions, Grimes has also spent time working in the classroom and started as a teacher.
"My first year teaching was 2004. I graduated from Ole Miss and I went into teaching social studies," Grimes said, "I taught one year in the Atlanta public school system, I taught social studies."
Though his qualifications may precede him, Grimes aspired to become an educator from a
young age.
"My biggest inspiration to become a teacher was probably my mom," Grimes said. "She was a school teacher and taught for over 30 years. I literally grew up inside of a high school."
Having grown up around educators, Grimes is carrying on the torch of education, continuing the family tradition. In addition to his mother, he has found many other positive role models to look up to in the education field.
"Just had good teachers along the way, I had a great band director," Grimes said. "That was sort of our father figures. At school, we had lots of great coaches that were always the disciplinarians for us growing up."
Grimes has managed to make a fairly smooth transition to Oxford High. Regarding the 2023-2024 school year, he has many goals focused on fostering a healthy environment at OHS.
"I hope to help the school district maintain its academic excellence, as well as make sure that all students grow academically," Grimes said.
In addition to fostering a strong academic setting, Grimes takes into account the importance of creating a safe place for students to learn.
"The only goals I've ever had in the schools that I've been the principal in have been A) to keep kids safe, and B) to grow them academically," Grimes said. "I want to make sure that the school maintains a healthy social setting for all students."
Grimes also places a high importance on the personal achievement and strive of every student. Grimes is a great fan of all sports because of the deeper meaning he sees within the games, the competition.
"I love sports for the spirit of the of actual competition." Grimes said. "For me, everything is a sort of tied back to athletics to the spirit of athletics."
Using the spirit of athletics to foster competition, Grimes wishes to instill this value into all OHS students, as a means to motivate all of us to be our best. Otherwise, Grimes also wants students to understand the plethora of opportunities and opportunities that students have here at OHS, to advance themselves academically, but also as people. Grimes believes that the fostering and creation of healthy competition for student motivation is vital to the success of each student.
"Take advantage of all the opportunities you have. Take full advantage of every opportunity you have. Compete with yourself every day. Strive to be the best you, are every day," Grimes said. Compete with
yourself every day. Strive to be the best you, every day," Grimes said.