Softball Season on Hold Due to Hospitalized Players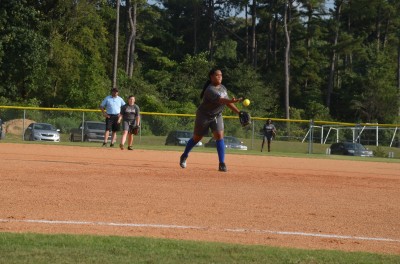 On Aug. 28, six softball players were hospitalized due to dehydration when they competed in their first district game at home against Tupelo. The softball game lasted from five to seven in the evening, and temperatures lasted well into the high 90s throughout the entire game.
"It just got really hot," junior Elisha Webb explained regarding the circumstances leading to her and her teammates' hospitalizations.
Junior Nelsy Morales explained that she as well as her team members did not get a chance to eat before the game due to the tight schedule they were on, and that was one of the reasons people became hospitalized.
"We came straight from school (to the field)," Morales said, citing the fact that the school day ends at 3:40.
Steve Blackmon, the head coach of the softball team, declined to comment on the hospitalization of his players and referred "all heat-related questions" to OHS athletic director Johnny Hill.
"They didn't each lunch," Hill explained regarding the reason people were hospitalized. "They had a chance to get snacks during half time, and we provided water in the dugout."
During the game, two players collapsed. Hill explained that one player passed out in the seventh inning and another player had a panic attack.
"Two of the girls passed out at the end of the game, and that's when me and three other girls stopped breathing," Webb said.
Webb as well as five other teammates were hospitalized after the game.
"(The doctor) said that I was dehydrated and I hyperventilated," Webb explained.
Webb as well as the five other players will not be able to play for four weeks which is the majority of their season.
With six players out for most of the season, the team will only have seven participants actively playing on their team. In order to be eligible to play, the softball team must have at least nine players participating.
"The season is on hold at the moment," Hill said.
"We are only practicing right now until everyone comes back," Morales said.
"When we all come back we will only have four more games left for the season," Webb explained.