Grammy Museum set to open in Mississippi Delta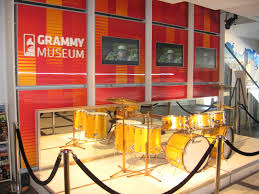 The Recording Academy and Cleveland Music Foundation announced the Grammy Museum Mississippi on April 2.
The museum will be the first Grammy museum to be built outside of Los Angeles. It will be a 27,000 square foot facility on the campus of Delta State University in Cleveland.
"It's a fantastic and fitting honor that the L.A.-based Grammy museum chose Mississippi for its new location," OHS music teacher Tyler Kuntz said. "From blues to rock and jazz to pop, our soil was the place where all of our American music was planted and grown. 
"I hope this museum serves to not only educate younger generations of the importance of our state's musical heritage but inspires them to become a part of it."
The impressive museum is already penned as the world's most technologically advanced music museum. It will cover the history of recorded music as well as showcase artifacts and musicians' stories.
However, it is going to have an emphasis on Mississippi's impact on music and the artists that originated in Mississippi like BB King and Muddy Waters. It will include many exciting exhibits and multimedia presentations and feature public events and educational programs.
"I think it is good for Mississippi since we take pride in our musical history, and I think having a Grammy museum is another step in that," Oxford High junior band student David Chang said. "I think it will do us good."
The Grammy Museum Mississippi is offering great opportunities to students at OHS as well. Students can submit a visual art piece, written essay, or an original song on the theme of "the Roots of American Music are Planted Deep in Mississippi" for an opportunity to be among the first to experience the museum.
Finalists are able to bring their entire class to tour the museum following the Ribbon Cutting Ceremony in 2016.
"On behalf of the art department, we are really excited," said OHS art teacher Ebony Johnson. "Our goals are to expand beyond the city limits to solicit the wonderful growth and opportunities here at OHS. So, this is just another opportunity to express the fine artistic achievements of the students of Oxford."
The Grammy Museum is expected to open March 5, 2016.