Oxford School District Foundation gives grants to innovative teachers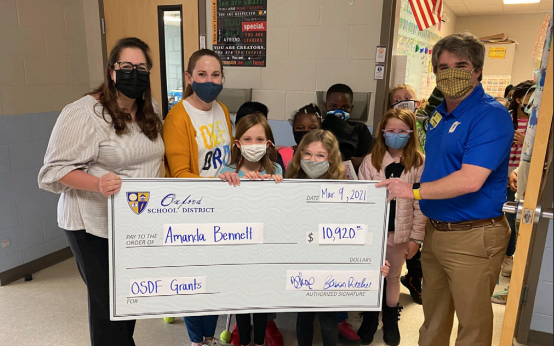 The Oxford School District Foundation (OSDF) is a non-profit organization that dedicates itself to aiding and strengthening Oxford schools. It's made up of families and individuals in the community. Last year, this organization gave 14 grants to teachers in the school district. 
OSDF is one of the organizations that raises money for the school district. Dr. Matt Campbell, the president of the foundation, said the organization's purpose is to "fund innovative education approaches." 
"We do this through funding grant proposals by school district staff focused on providing novel, innovative and impactful educational programs," Campbell said.
The organization has to get funding from people throughout the community. They get donations from families and businesses. The donations go to the money for grants. 
"Grants are funded through proceeds from Oxford School District car tags as well," Campbell said.
Teachers apply for grants each year in the Spring. The foundation takes about a month to decide on the grants they can give out depending on the amount of funding they have. Last year, they were able to fund all of the teachers' grants who applied.
"Grants have gone to each of the schools in our district over the years," Campbell said. "The projects include a book vending machine, virtual reality equipment, 3D printers and robotics equipment."
One teacher to receive a grant last year was Deborah Jones. She's a biology teacher at Oxford High School. She got a grant for biotechnology equipment for her AP Biology class.
"I was able to buy PCR machines, gel electrophoresis machines and micro pipettes with my grant," said Jones.
The machines Jones bought with the grant money will allow her students to do experiments, like purifying their own DNA, doing a PCR analysis to look at their genotypes and other DNA fingerprinting experiments. 
"It's much more effective when students get to actually do these experiments, as opposed to just looking at pictures of other people's results," Jones said. "They'll get to do it with their own DNA as well, which makes it more fun and personal." 
Another teacher who got a grant was Katrina Harris, the Oxford Middle School art teacher. She received a grant for her ceramics class.
"It was for a clay extruder and a metal ware cart," Harris said.
The clay extruder helps to save clay. Instead of throwing clay out or wasting it, the students can reuse the clay easily. This also saves money and time for Harris because she doesn't have to buy as much clay.
"We are able to take pieces of clay, put them through the extruder, and combine it into one cube that can be reused," Harris said.
The ware cart has made getting started in the classroom faster. All the materials a student needs for the class are on the ware cart, so they don't have to walk all around the classroom to find their materials in different places.
"My students can come in, get their supplies, and begin right away," Harris said.
Harris and Jones said the process for applying for a grant wasn't complicated at all. They had to research supplies and figure out a budget, and then fill out a form to apply saying how the supplies would help in the classroom. OSDF didn't take long to get back to them. 
"The grant application was not too difficult," Jones said. "I did have to do a lot of research on pricing equipment from a couple different companies."
They are very thankful for OSDF making these grants possible. The equipment they got will last years and will benefit many students. 
"We are so blessed to have these opportunities within our district," Harris said.