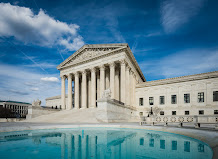 With its ruling on June 29, the Supreme Court effectively overturned 40 years of precedent by ending consideration of race in admissions practices in higher education. In a 6-3 decision, the majority banned the practice of race-conscious admissions and cited the equal protection clause of the 14th Amendment, which was enacted to address the racial inequities experienced by Black Americans. Justice Ketanji Brown Jackson publicly shared his views on the matter stating that neutrality judgment ignores the nation's history of racial injustice. 
Because of this decision, it's likely that institutions will lean more into the high schools when determining admission. High schools are heavily segregated—college admission officers know that. They may not only encourage applications from high schools that historically haven't sent a lot of applications and are heavily made up of underrepresented students, but they might look more closely at those high schools. 
Without test scores, the most important thing in the application then becomes the high school transcript, meaning the grades and courses that students take. 
The effects of this will be that the nation's top colleges are likely to enroll fewer Black, Latino, and Native American students after the Supreme Court ruled that colleges and universities essentially cannot consider race as a factor in the admissions process.
The ruling severely restricts colleges' ability to use affirmative action to create more racially diverse campuses and will likely curtail broader efforts to fight for racial equity in higher education. 
Writing for the majority, Chief Justice John Roberts said that Harvard and the University of North Carolina's race-conscious admissions programs had violated the equal protection clause of the U.S. Constitution, which bars discrimination because they lack sufficiently focused and measurable objectives warranting the use of race, unavoidably employ race in a negative manner, involve racial stereotyping, and lack meaningful end points.
"Eliminating racial discrimination means eliminating all of it," Roberts wrote. 
That bar will make it exceedingly difficult for colleges and universities to consider race as part of their admissions process going forward.
Ruling should not deter colleges from efforts to diversify their campuses
Roberts' majority opinion did leave open a small window for how colleges could consider race in admissions. 
"Nothing in this opinion should be construed as prohibiting universities from considering an applicant's discussion of how race affected his or her life, be it through discrimination, inspiration, or otherwise," the chief justice wrote.
In dissent, Justice Sonia Sotomayor described this as a meaningless concession—"nothing but an attempt to put lipstick on a pig. The Court's opinion circumscribes universities' ability to consider race in any form by meticulously gutting respondents' asserted diversity interests," wrote Sotomayor. "Yet, because the Court cannot escape the inevitable truth that race matters in students' lives, it announces a false promise to save face and appear attuned to reality. No one is fooled." 
Nine states already ban affirmative action at public colleges and universities.
This decision stems from two cases that were brought 
before the court by Students for Fair Admissions, an organization headed by Edward Blum, who has spent years fighting affirmative action. 
The result of Thursday's decision means the end of a system that provided decades of opportunity for thousands of students who might otherwise have been turned away from some of the nation's biggest colleges and universities. The effects will be felt nationwide, and soon. 
In states that have already banned affirmative action in higher education, the percentage of Black students has dropped, in some cases dramatically. Black enrollment at the University of Michigan was four percent in 2021, down from seven percent in 2006, before Michigan voters prohibited the consideration of race in college admissions. 
The story is similar in California, despite that state's intensive efforts to recruit more minority students by other means. 
That fact that this ruling has been long anticipated does not change the context in which it was handed down. For the second time in just over a year, the Supreme Court tossed out a longstanding precedent intended, however imperfectly, 
to expand basic rights and freedoms to a large group of Americans who had suffered under a legal system that treated them as second-class citizens. Last year it was women seeking the constitutional right to have an abortion; this year it is chiefly Black and Latino students who want a shot at the economic opportunity that can come from a college degree.
The problem is that, as 
a mat-
-ter of history, it's not true. The 14th Amendment, ratified in the aftermath of the Civil War, was expressly intended to allow for race-conscious legislation, as Justice Sotomayor noted emphatically on Thursday. The same Congress that passed the amendment enacted several such laws, including the Freedmen's Bureau Acts, which helped former slaves secure housing, food, jobs and education.
The bureau was an obvious and essential measure to remedy at least some of the harm that slavery inflicted on Black Americans. The first affirmative-action programs, a century later, had the same goal, only then it was necessary to address the decades of state-sanctioned discrimination against Black people that followed Reconstruction, and that continued to impose unique and specific hurdles to their ability to fully join American society. 
As President Lyndon Johnson said in a 1965 commencement speech at Howard University, "You do not take a person who, for years, has been hobbled by chains and liberate him, bring him up to the starting line of a race and then say, 'You are free to compete with all the others,' and still justly believe that you have been completely fair."
And yet despite the success of affirmative action programs in raising minority enrollment, or more likely because of it, the pushback was immediate. Allan Bakke, a white man rejected by the medical school at the University of California, Davis, said he was the victim of racial discrimination and filed a lawsuit. In a complicated split opinion in the 1978 Bakke case, the Supreme Court allowed race to be considered in college admissions, but only for the purpose of increasing diversity on campus, not as a way to alleviate the long-term effects of discrimination. 
By limiting it to a hard-to-define concept like diversity, the court opened the door to endless challenges. Diversity—whether on campus, in business, or in government and society at large—remains a vital goal for any institution, and it will now be more difficult to achieve since this recent Supreme Court ruling. This will undoubtedly affect the next cycle of admissions.