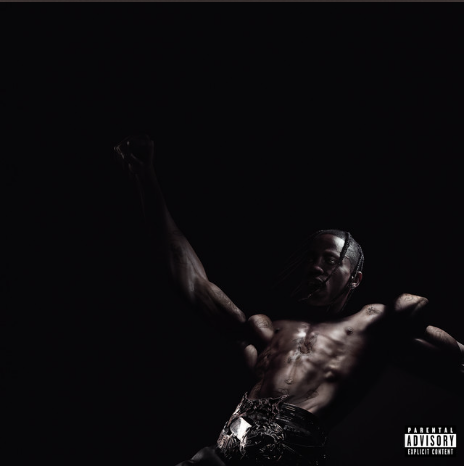 After nearly half a decade of anticipation, rap fans finally received the long awaited album from Travis Scott. Scott's last album, ASTROWORLD, left fans eager to hear his next project, but after years of teasing Utopia some have labeled it a disappointment. With promotion stunts: such as releasing a film, copying the Beatles' Abbey Road cover and listening parties all around the world, the album managed to surpass ASTROWORLD's 538k debut making this Scott's fastest selling album. The album consists of 19 different tracks with features from artists namely Playboi Carti, Drake, Kid Cudi and many others. The album is not only a musical ensemble as the album tells a story of moving from a dystopian society and searching to find a utopia but realizes there are many different forms of utopia and everyone has to find themselves what their true utopia is.
Though a great story line throughout the album and record breaking first day sales; people have many a opinions on the tracks. OHS senior Robert Norman is a huge hip-hop fan and has always loved Travis Scott's music but he has labeled this album a disappointment.
"The album was very highly advertised and had me very excited, but it fell short for me on the first listen," Norman said. "I thought the production was very interesting and distinctive and has an interesting message."
Norman believes that the album is deeper than music and tells a story through its tracks. Norman felt that Scott's previous album ASTROWORLD was very basic in its production and message and Utopia is able to really show emotion and a deeper thought behind the music.
"Utopia appears to try and portray an idea of utopia being a person's specific happiness no matter what or where they may be," Norman said. "I do believe that the album tried to be deeper than it is, but that the album tried to be deeper than it is, but I think that the message is there."
Out of all 19 songs Norman believes "Circus Maximus" is his favorite as it has a great mood and beat behind it as well as a great feature from the Weeknd and unique vocals to compare.
"My favorite part of the album is the mood that it sets," Norman said. "It is kind of dark and mysterious in the best way and it feels like a looming threat is increasing throughout each song and the story it tells."
On the other hand OHS senior Leland Koestler looks at the album as a potential for great concerts and performances. He doesn't believe that the tracks give off the same energy and rhythm that ASTROWORLD did, but sees this album as a great project for Scott to grow his performing career off of.
"I feel like the album has a couple good songs but it is definitely not an album that I could listen to on repeat as some of the songs are complete skips", Koestler said. "I do believe that if he performs this album at a concert it will be one of his best concerts to date, with songs such as 'Fein' and 'Meltdown' I wouldn't miss a performance."
Despite previous concerns with Travis Scott concerts and the safety of others, Koestler says he would still attend a concert to hear this album played live. Koestler believes this album paves the way for a great comeback in Scott's concerts.
"With the production of a Travis Scott concert paired with this new album may change my opinions on the actual tracks and songs themselves," Koestler said. "I look forward to hearing how this album ages with trends and stuff, so I do think that it may end up growing on me."
OHS senior Zaiden Aquino believes that this is one of Scott's greatest works ever and does not deserve any of the hate it's getting. From the surprise features and the story telling monologue Aquino thinks Utopia deserves a spot on the top charts for sure.
"I believe that the album is so much larger than music, the story telling of a contrast contrast between a dystopia and a utopia perfectly describes the struggles that Scott went through to make it big in music," Aquino said. "I think that the features from SZA, the Weeknd, and Drake really tie the album together and make it stand out much more than his previous projects."
Aquino also agrees that this album will rebirth Scott's performance career as everyone should want to see his new music played live. Aquino plans on attending the next Travis Scott concert once he begins his new Utopia tour.
"Numbers don't lie," Aquino said. "Travis is number one on Spotify and pulled in more listeners than any rapper in the world currently. This album also broke Astro World's one day sales record. I hope to make it to one of his next concerts if he begins his tour soon, I would love to see him perform with another artist as well from this album, preferably Drake."
Aquino recommends those who are having a hard time enjoying the album to not judge so quickly and let the album grow on them. Aquino suggests the songs: "MELTDOWN," "TOPIA TWINS," and "TELEKINESIS" for new listeners to get into the album, and to listen to ASTROWORLD first to see what it's all about.
"I can agree with those who think that the album may have tried too hard at telling a story that the songs may be missing some flow, but when you can understand the meaning behind each song it is beautiful," Aquino said. "Just like any other album fans may be skeptical, but with record breaking sales already I believe this album to be looked at as one of the greatest albums in rap and I am excited to see how far it goes and see how people's opinions change for the better."