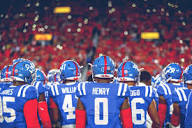 The Ole Miss football team loses to the #13 Alabama Crimson Tide, taking their first loss of the season. The Rebels fell five spots in the newest AP poll rankings and are now ranked #20 going into Week Five. 
In Week Four, Ole Miss traveled to Tuscaloosa to face the Alabama Crimson Tide. Last year, the Rebels fell short to the Crimson Tide at home, 30-24.
The Crimson Tide would strike first, converting on a 48-yard field goal to make it 3-0 halfway through the first quarter. Ole Miss would quickly respond three minutes later with a 10-yard touchdown run from quarterback Jaxson Dart to make the game 7-3 at the end of the first quarter. The offense went quiet in the second quarter and failed to score. Alabama converted on another 40-yard field goal to make the game 7-6 going into halftime.
Alabama started out the second half by adding a 20-yard field goal on the opening drive to reclaim the lead 9-7. Halfway through the third quarter, the Crimson Tide would score their first touchdown of the game on a 33-yard touchdown pass along with the two-point conversion to push the lead out to 17-7. Ole Miss answered with a 35-yard field goal at the end of the third quarter to cut into the deficit, 17-10, going into the fourth quarter. Alabama scored another touchdown to make the score 24-10 and eliminate any chance of the Rebels putting together any comeback. The Ole Miss offense failed to score for the entirety of the fourth quarter, as the game ended in a final score of 24-10 in favor of the Alabama Crimson Tide.
The Alabama defense was the MVP of this game. The Crimson Tide would silence the red-hot Rebel offense to just 10 points in the game. The Ole Miss offense was averaging 47 points per game heading into Tuscaloosa.
For Week 5, the #20 Ole Miss Rebels (3-1) will host the #13 LSU Tigers (3-1) at home in Vaught-Hemingway Stadium. The Tigers have opened up as 2.5-point favorites on the road. The biggest question for the Rebels is whether they get their offense up and running again. The Ole Miss offense scored an uncharacteristic 10 points against Alabama, but hope to bounce back from their disappointing performance. On the other side of the field, the Tigers will look to solve their own problems, giving up 31 points to the Arkansas Razorbacks at home last week before ultimately kicking a game-winning field goal at the buzzer. 
Week Five Prediction: Ole Miss Rebels 31, LSU Tigers 28.