French teacher doubles as musician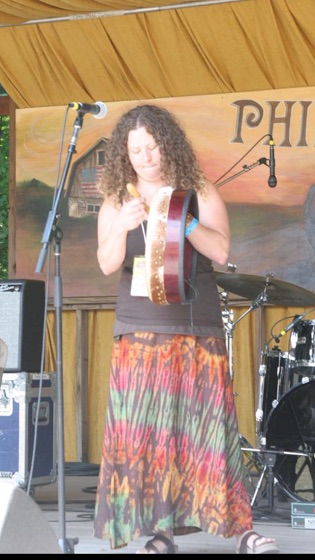 By: Caroline Crews
There are no weekends off for OHS French teacher Shaundi Wall.  
As a member of four different bands, she plays in a variety of venues across Mississippi, and even other states.
Wall is a singer and a percussionist in The Old Ways, Celtic Crossroads, Dutch Loves Bijoux, and The Slow Rollers.
She plays Celtic music with The Old Ways and Celtic Crossroads, 1920s and '30s jazz with Dutch Loves Bijoux (which Wall sings in French), and an easy-going mix of slide guitar (played by Wendy Jean Garrison) and Wall's vocals with The Slow Rollers.
"I love the variety of the music – that I can go from ancient Ireland, to Eric Clapton, and stop in France along the way," Wall said.
Wall plays at an assortment of venues, from The Powerhouse in Oxford to the Philadelphia Folk Festival in Pennsylvania; although, her favorite place to perform is the Celtic Fest in Jackson, Mississippi.
"It is like an annual re-grounding and re-energizing family reunion," Wall said.
Juggling music and teaching at the same time is exhausting, but is worth it for Wall.
"I'm equally passionate about both, and what you're passionate about, you make time for," Wall said.
In three of her four bands, The Old Ways, Celtic Crossroads, and Dutch Loves Bijoux, Wall's husband, Greg Johnson, performs alongside her.
"Music is the thing that brought us together initially," Johnson said. "I love hearing her sing and knowing how passionate she is about performing."
Senior Abbie Vaughn saw Wall perform at Cups in Oxford last year.  
"It was unique in her own style, which just made it that much cooler," Vaughn said.
Wall has upcoming gigs with The Slow Rollers, the newest of Wall's bands, at Lamar Lounge on Sept. 20 for Sarah Fest, a festival put on by the Sarah Isom Center for Women and Gender studies.  This will be Wall's first performance with The Slow Rollers.
"I'm really excited," Wall said. "We've actually already got another gig lined up, and since we haven't even played our first gig, I think that bodes well."
The Showcase is from noon to 1:15 p.m.  Wall will perform from 1:30 to 2:15, after The Blues Doctors, and before Jimbo Mathus.
"I think it will be interesting to go from such a dynamic performer as Jimbo Mathus to the very mellow and intimate sound that we create, but I think that that's what Sarah Fest is all about – bringing together all these different factions of art and showing the beauty of each," Wall said.