Teacher Feature of the Month: Q&A with Amanda Witt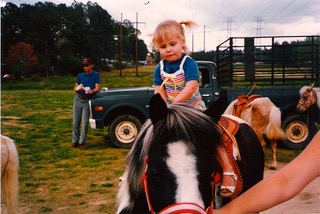 The Charger staff sat down with English teacher Amanda Witt, who has been teaching for 13 years, to learn more about her and about her stay at Cambridge, her love for writing children's novels or her childhood horse Patchy.
Q: Why did you decide to become a teacher?
A: I became a teacher because of literature, and I felt like it was a great way for me to have fun with that love of literature and writing. I like young people. I like children. I like the age, and I like that you guys are growing and learning, and I get to help you learn how to articulate your thoughts and express your ideas.
Q: How did you end up teaching at Oxford High School?
A: I came from Atlanta in 2001 to go to school at Ole Miss and ended up marrying someone who actually graduated from Oxford High School. So, he grew up in Oxford, and so we decided to stay in Oxford. It's a good town. It's a nice town to raise family. I drove to South Panola for many years. I really liked teaching there, but when I knew that I was going to have my first child, Oxford actually had an opening for that next school year. We always lived in Oxford. It just made sense. So, I applied in 2012 in one English position that year, and I got it.
Q: What is your favorite part of teaching?
A: I think my favorite part of teaching is when I have a lesson that I feel has been successful, and that my students have not only learned but enjoyed because learning can be such an enjoyable experience, but sometimes I feel like students are either apathetic or just frustrated that they have to be at school and nothing's good and nothing's fun. And, when I find a way to make learning fun and you've learned, but also enjoyed the process. You feel successful, and I enjoy that. I like to be around people. I like to talk and socialize and visit, and so what better place than a school. There's lots of people with lots of different personalities.
Q: What is it like teaching and being a parent?
A: It's good. I mean it definitely has its challenges. My life is just busier, but I think it's actually been really good for me as a teacher because I'm able to come at an issue, handle a student or a lesson or a problem as a teacher but also as a parent, so I'm able to feel both sides of that. I mean, how would a parent feel about this particular situation with a child. How would I feel about this if this were my child. How do I feel about this as a teacher. I feel like it gives me another dimension of perspective.
Q: How was it learning at Cambridge?
A: It was amazing. It's really hard, but it's really challenging. The professors, the questions they would ask you, the way they were able to present Shakespeare. I took two classes there and lived there for about seven weeks and throughout the summer one year. It was a program that Ole Miss sponsored called "Shakespeare Summer School," and I went with about 10 to 12 other Ole Miss students. We had all different fields of study. Several friends of mine were in the business school. I chose to do the Shakespeare summer program. So, we lived on campus and walked to class everyday. We go to participate in activities with the Cambridge students that were there for the summer. Specifically, I studied King Lear and Hamlet. It was challenging. It was exciting, and I worked really hard.
Q: Do you have any hobbies outside of school?
A: I do. I guess they're sort of connected. I like to write. I actually enjoy writing picture books for small children. So, it's a hobby. It's sort of a passion. Not published. Hope to one day publish. Publishing is a very tricky, complicated club to get into. It's a process, but it's a fun process. It's something that, even if I don't ever publish, it's something that I really enjoy. Picture book writing is simply an act of editing, and it's all about how to get the story just right in a certain amount of words. I find it exciting.
Q: Why type of theme do your stories usually convey?
A: Right now, I tend to write stories that are inspired by my own children just because I spend so much time mothering. I worked on a piece about boots for little boys and all the imaginative places they can go in a pair of boots. You know, to the moon, on a pirate ship, on a construction site, super hero boots. So, I worked on that. I actually had some critic done on that one, and it was pretty harsh. But, professional critics can be harsh, so it's just something I'm working on. I'm currently working on a piece. I finished my rough draft—by rough draft I mean sort of my first draft of that. It needs some work. It's a little long, but it's about a Christmas tree that's never chosen. He's never chosen, but the book unfolds his greater purpose. That's a project I'm currently working on that I hope to present for a professional critic maybe later in the year.
Q: Do you usually draw the art or do you have an illustrator?
A: Oh no, I'm not an artist, so part of my process would be, hopefully one day if I ever make it, finding one. I'm very much in the beginning of the stage of hobby and life of writing, but I am writing for myself and, hopefully, one day for others. I'm currently in the phase of learning about the industry. Typically writers who aren't considered writer illustrators, they write and then publishing houses match them with authors and then sometimes writers and illustrators never meet. So, that's sort of a back and forth process. So, I'm definitely not anywhere near that phase, but I don't illustrate, no.
Q: Tell me about how you used to ride horseback.
A: You know, horseback riding for me was something growing up that I always wanted to do. I always wanted to, and my parents used that as a method to convince that moving where they wanted to move was the right choice. We grew up in Atlanta, so we lived more in the city, and I think I'm kind of a city girl at heart, but my parents had this dream of living on acreage and having land, so moving more suburb of Atlanta. I had to leave my school, my friends and change. So, we did that when I was in fifth grade. The next grade I was switching schools anyway, I still didn't agree, but the idea was, "Well Amanda, if we move, then we have land. You can get that horse you really want." So I felt like maybe that was them enticing me, but we did eventually do it. I mean it was a process. We moved, and we built a house, and then worked on a barn. I mean, to have a horse, you have to have everything just right. You need materials and a barn and a place to put tack. I finally found [a horse], and actually I got home from school one day and he was there. My dad had taken the day off work and had gone and picked him up. So, he was there, and it was a process of acclimating him to new people and a new place. He had only ever lived at his current farm. It was a good horse. His name was Patchy. He was an Appaloosa. He was about 16 hands [64" tall], so he was a pretty big horse. He was white and sort of blackish brown spotted, traditional Appaloosa. Very pretty. Very stubborn. But very kind and gentle. So, he was a good horse. I never competed. I just rode for pleasure.
Q: How did you go about learning to ride?
A: Actually, for a period of time he lived not at my house but at like a larger farm where you could board horses, and I had a trainer, so I took lessons. But, he lived there just because the process of taking him back and forth would've been ridiculous. So, we had him transported to this farm. He boarded there, and I'd go a couple times a week after school and take lessons on my horse with a trainer. Eventually, when we felt like I was ready, we brought him back home.
Q: How did these hobbies affect who you are?
A: I guess that all hobbies of ours, even though they come and go, and they change as we change and seasons of life change, I think they help make us who we are. They help develop us. They help give us insight. They help us learn who we are or what we like or what we don't like. I learned the value of hard work through owning a horse. I mean it doesn't matter if it's Christmas Day or your birthday or the first day of school and you're trying to pick out the perfect outfit, you get up, you go to the barn, you feed, you water, you love on your pet. I mean it's work. It's hard work. If there's frozen water, you've gotta bust it up. You've gotta make sure he's got fresh, clean water and food and that he's exercised and cleaned, hooves cleaned. It definitely taught me the value of hard work. Writing, I think, helps me remember that the good things in life don't come in easy. One of my favorite quotes, and I won't quote it just right, but it's from A League of Their Own, which is a book and then was turned into a movie. But one of the characters is complaining that something is hard and the other character says, "Well, if it was easy, everybody would do it." So, I don't think a lot of good things can come easy. We've got to work for it. It's good. It's a challenge. I like a good challenge.