OHS welcomes first female head principal Dr. Dana Bullard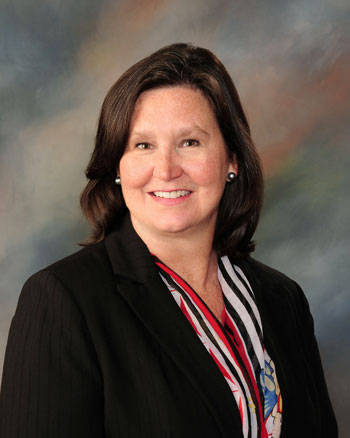 On July 1, 2022, Dr. Dana Bullard began her new role as the principal of Oxford High School for the 2022-2023 school year. Having worked in education for roughly twenty years, Bullard has had plenty of experience in a high school environment. She recently took over the role of Noah Hamilton as he transitioned to a career in the Oxford School District Central Office as the Director of Accountability and Accreditation.
While this may be Bullard's first year as an official administrator of Oxford High School, this is not her first interaction with the district. From 2018-2019, Bullard worked closely with Superintendent Bradley Roberson and the Oxford School District during its "District of Innovation" application pro- cess with the state of Mississippi. She played a big part in OSD's adoption of the Portrait of a Graduate program, which has now become one of the most emphasized aspects of an Oxford High School Education. The Portrait of a Graduate ensures that students are effective communicators, culturally aware, ethical, critical thinkers, creative thinkers, resilient, personally responsible, and active citizens before they leave high school.
"I believe that it's been extremely underutilized," Bullard said. "For so long it's just been sitting out there on these cards and posters, not really meaning anything just yet. I worked with Mr. Roberson quite a while ago on it and so I'm excited to see it in implementation. It really covers all of the things left uncovered in class. It's these that are
the skills that will hopefully take students through whatever their next step is. That's why it's so important to me. If we as adults in this building are not making sure that you all have those skills, then we are not doing our jobs." Despite the obstacles that come with switching schools, Bullard believes that the current administration has been crucial in making her move easier.
She is very thankful for all of the support she's received in her first few weeks at Oxford. Though Dr. Bullard is optimistic about the school year, she does admit that it is a big transition from her most previous position as principal of Corinth High School.
"The most difficult part of my new position so far has been just getting to know people – I still don't even know some teachers," Bullard said. "If you look at it, I only just met them ten days ago. It's hard to know that many staff members and 1400 kids on top of that. The sheer size and number of things going on at the same time is one of the biggest differences between Oxford and Corinth. I've become kind of the middle man between the district level administration and the students and teachers here at OHS. I'm just so excited to be here. I have a great staff, [and] the idea of this many assistants and people who know what they're doing has really helped. The support we have at the district level is huge."
As Oxford High School continues to grow exponentially, in both faculty and students, Bullard takes note of how her responsibility will grow as well. One of her strategies for how she will handle this is by being a living example. In order for others to feel encouraged to do the things that she is asking them to, she does them first.
"I motivate others by example," Bullard said. "I would never ask a coworker to do something that I wouldn't do myself or am not already doing myself. They've already seen me pick up trash, they've seen me out doing what I'm asking them to do. It's the little things like work ethic, working with other people, showing up on time – things that sound silly but are important in the long run. Avoidance is never going to be the answer."
As a National Board Certified Teacher herself, Bullard is passionate about making Oxford High School a productive learning environment for all students. For her – that starts with the teachers. So far, she has been highly complementary of the OHS teachers that she has gotten to meet with and hopes to get to know them better throughout the year.
"I come from a family of teachers, so they always ask me why I went to the dark side," Bullard said. "My main thing is that I want to make sure that I am meeting the needs of all students. As a teacher, I could only make sure I was taking care of all of the students in my class. As I went from teaching English to underclassmen to teaching senior English classes, I would always be the teacher that would set up their college visits, FAFSA nights, etc. I found that my true interest really fell on this age group of young adults transitioning to the next stage of their life. It was hard to do that – to give up coaching soccer to teach more and to give up teaching so that I could help more kids get to where they wanted to go. I care about the kids, and I know teachers care about the kids. I have a lot of respect for those teachers. I respect their time and try to do anything I can take off of them administratively, and help them out too. They're the ones making the difference for those kids. Just hearing about how teachers are preparing young adults is so neat. I can't wait to see all of it."
Not only is Bullard loving OHS so far, but OHS is loving her. Oxford High has gone through four head principals in the past six years, but students, teachers, and administrators have high hopes that Bullard will stick around.
"I really like her," AP English teacher Sommer Husbands said. "She's very well educated, and our first female head principal. I appreciate having someone who's sensible, reasonable, and efficient in power. I also love that I see Dr. Bullard in the hallway – she's very accessible."
Other teachers are expectant for Bullard to bring change about the current conditions there.
"I hope this year that she works to reclaim integrity of instructional time," an OHS teacher said. "And especially to promote a more structured learning environment."
Bullard's higher-ups have also communicated a positive view of her in her new role. Her employer, Superintendent Roberson, was a former Oxford High School principal and teacher himself. He has lots of great things to say about her and the work she's done so far.
"After reviewing Dr. Bullard's resume and speaking with her, I felt she had the skill set and knowledge to continue to build on the success of Oxford High School," Roberson said. "She has an immense amount of knowledge of school leadership from receiving her Doctorate in Educational Leadership from Vanderbilt University and from her past experiences in education. Dr. Bullard has an incredibly diverse background as an educator. She has served with the Mississippi Department of Education as well as the high school principal for diverse school systems. She has a deep under- standing of the leadership framework needed to build and maintain excellence in a school setting. She has the ability to put OHS on the map not only within the state of Mississippi, but on a national level as well. "
Bullard was a standout in the principal-hiring process and had all of the qualities that Roberson was looking for.
"There are qualities that I look for when hiring any type of leader such as the ability to empower others, the ability to act decisively when needed, and the ability to motivate," Roberson said. "It's important that the leader exhibits the characteristics most needed by the school at the time he/she is hired."
Though Roberson is confident he made the right choice in hiring her, he has high expectations for Principal Bullard for the 2022-2023 school year at OHS.
"My expectation for Dr. Bullard, as with all principals, is to create a school culture that is conducive to student learning by setting high expectations for her staff and students and providing the supports needed for student success," Roberson said.
Transitions are in big swing at the school of Oxford, and everyone is eagerly anticipating the big things that Bullard is sure to accomplish.
"In my life, I've been in depressing places," Bullard said. "This place is wonderful."