Frugé spends semester as page on Capitol Hill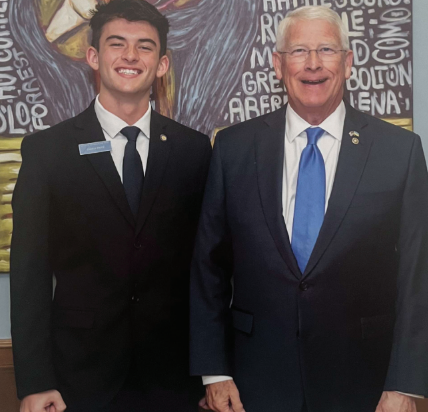 Oxford High School junior Charlie Frugé has spent the past six months serving as a page for Mississippi Senator Roger Wicker in Washington, D.C.. Student pages are appointed and sponsored by a senator, and their duties consist primarily of the delivery of correspondence and legislative material within the Congressional complex on Capitol Hill. The U.S. Senate Page Program allows students a unique opportunity to learn about Congress while continuing with coursework. Frugé went through a rigorous process in order to be appointed as a senate page. The selection process is very competitive due to a large number of applicants for around thirty page positions.
"Senator Wicker gets a lot of applications for pages. I had to submit a transcript, three letters of recommendation, and write two short essays for Senator Wicker. I never had to interview but I had a lot of communication with Senator Wicker's deputy chief of staff and she was great through the whole process," Frugé said.
The program stresses education and continued learning, as following classes at the Senate Page School, which extend until 9:45 a.m. or one hour prior to the commencement of the Senate, pages report for duty to their respective cloak-rooms and work until 4:00 p.m. or until the Senate adjourns for the day. Frugé embraced the rigorous schedule, as once his daily routine became customary it was much more manageable.
"Pages typically have pretty grueling schedules. Pages usu- ally wake up at 5a.m. and are downstairs in coat and tie at 5:30. School starts at 6:15am and depending on when the senate is in session we could have 35 minute classes or 50 minute classes. We usually have an hour of homework per class so a typical day I would usually have 3-4 hours of homework. We go to work around 9am and work in the chamber until either 6pm if you are the early shift or until the senate adjourns if you are the late shift," Frugé said.
Frugé was able to experience behind the scenes events that took place within the Senate, as he never knew what each day's events would present.
"The most surprising thing about being a page was watching how the senators interact when they aren't on camera. In the chamber, pictures and videos aren't allowed. The only video is from the CSPAN recording studio so senators can really say whatever they want and they aren't quoted by news outlets," Frugé said. "Pages get the front row seat to be on the floor and they get to hear the senators' conversations and the most surprising part is to find that all senators don't hate each other and are really friends and ask about each other's families daily."
Moments throughout the program presented Frugé with surprise and excitement as he was presented with once in a lifetime opportunities.
"My favorite part of the experience was definitely serving at the Republican leadership election. It was a really cool experience to be around the senators at such a crucial time in our party. I thought it was really cool to be able to go into a chamber when there were only 50 other senators to be able to go where the press wasn't allowed. It was also really cool to have the pictures from that and be in the newspapers," Frugé said.
Whether walking around D.C. or hanging around the Senate in between sessions, Frugé's exposure to public officials was never ending.
"It was a daily occurrence to have a senator interrupt you while you were doing your homework in the back lobby of the senate," Frugé said. "We had a lot of informal conversations with senators and then Senator Wicker was great. He had a few meetings with me to give me some sort of counsel on college choices or anything about paging."
While the typical weekly schedule was intense, the pages were still given opportunities to explore D.C. and have fun outside of the programmed time.
"We were allowed to check out. We had a whole process where they would give us safety cells which were cell phones that were disabled and could only call the police and our residence hall staff," Frugé said. "We would go all around D.C. finding cool restaurants and would go ice skating a lot really just exploring D.C. and the different cultures that the city had to offer."
Frugé was one of twenty-six pages within the program, and he had the opportunity to get to know students from all over the country.
"The page program gave me a chance to have a very diverse group of friends. My roommates were from Oklahoma, Colorado, Connecticut, and New York. There were only 26 pages and we spent every hour of every day together," Frugé said. "I learned about their states and their lives at home. I'm very thankful for the lifelong friendships that I made at the page program."
Part of Frugé's interest in this program stemmed from his life aspiration to one day be a public figure along with his interest in public policy.
"The program really solidified my interest in law and public policy," Frugé said. "I'm really figuring out how I get back to Washington, D.C. or to Jackson and see how I can interact and be of service."