Will Revenant performance land DiCaprio an Oscar?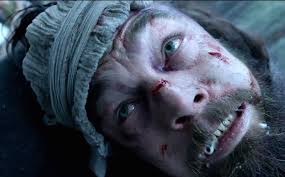 In his nearly 27 years of working in the movie industry, Leonardo DiCaprio has never won an Academy Award for Best Actor. Despite starring in movies such as "The Great Gatsby" (2013), "Django Unchained" (2012) and "Titanic" (1997), he has yet to add an Oscar to his array of other awards.
"The Revenant" (2015) may be one of DiCaprio's best chances to finally attain that coveted Oscar. He has already been nominated for the award, but some are not so sure that he will definitely win.
"He deserved the nomination," Oxford High sophomore David Evans said, "but whether he wins or not, it just depends who he is going up against."
Others are fairly certain that DiCaprio will finally win himself that Best Actor award that all actors strive for.
"I think he deserves Best Actor, and I hope that he wins it," said Kolbe Leary, a junior at OHS.
DiCaprio won the Best Actor in a Drama Movie at the 2016 Golden Globes for The Revenant, which may increase his chances of winning an Academy Award.
DiCaprio put a grueling amount of effort into his role as Hugh Glass, the American frontiersman whose semi-true story is depicted in the movie.
"I have read what it took for them to make that movie, and it is a surprise the movie was even made in the first place," said history teacher Robert Molpus. "So on DiCaprio winning the Oscar, I would like to see that happen."
DiCaprio had to spend five hours every day before shooting just so makeup artists could apply his fake wounds. The movie was shot in the Canadian wilderness in sub-zero temperatures. Luckily, DiCaprio did not get hypothermia or frostbite. However, he did suffer many viral infections and the flu throughout the shooting process. At one point in the movie, DiCaprio, who is a self-proclaimed vegetarian, consumes a real, raw bison liver.
Only time will tell whether he will win that Oscar. The Academy Awards take place Feb. 28.