OHS alumna lands lead in Broadway musical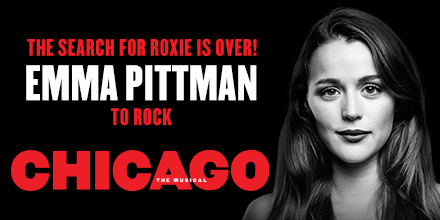 Talent produced from Oxford High School has proven to range throughout every aspect one could imagine; academic achievements, athletic opportunities, and artistic endeavors. A new, very notable accomplishment of an OHS alumni can now be added to the list as Emma Pittman will be the new "Roxie Hart" in the renowned Broadway show "Chicago." Many closely kept track of Pittman's progress through social media as she was chosen and competed for the coveted role, and on January 10th Pittman's friends, family, and many Oxfordians rejoiced as it was confirmed that she would be the next Roxie Hart on Broadway.
Pittman's four years of experience within Mr. Davenport's theatre program at Oxford established a theatrical backbone that adequately prepared her to be competitive in her future endeavors and helped develop diverse aspects to her performances. After graduating from OHS Pittman continued her education and theater career at Wagner College in New York City. Wager's esteemed performing arts department has cultivated a prestigious name for itself through its unconventional curriculum, outstanding shows, and noteworthy alumni, making it sought after for those pursuing theatrical careers.
Prior to high school, Pittman took dance lessons, but during her freshman year she decided to try out theatre. Pittman's first role ever was "The Jitterbug" in the "The Wizard of Oz." Her love for theatre continued to grow through her high school experience and one of her favorite moments was going to the Fringe Festival in 2014 in Scotland where OHS performed a twisted version of "The Wizard of Oz." Pittman got to choreograph "The Jitterbug" number (a very 'full-circle' moment) and take on one of the most challenging roles of her high school career, all while making lasting memories with friends.
"OHS was the perfect launchpad for me as a performer. Davenport is a genius in the way he has laid out the program. It calls for the students to be incredibly well rounded in the theatre world, as well as very involved," Pittman said. "I loved having the chance to dip my toe in directing, acting, choreography, and set building in the productions class before going to college. Getting into Wagner was truly a testament to all I learned in Oxford."
At Wagner, Pittman found an experience similar to that of Mr. Davenport's program which both emphasized the importance of maintaining a well-rounded theatrical palate while also giving students the opportunity to study things of their interest. Some of the classes Pittman at Wagner took were Directing, Acting on Film, Choreography, Acting, Dancing, and Singing. Having this surplus of information available at Wagner grew Pittman's knowledge and allowed her to flourish as a performer.
Pittman chose a path in life that is dependent on passion and commitment and cannot be achieved through test scores or a desk job. Encouragement, motivation, and support are crucial for success in this field and Pittman was privileged with a family and friends that believe in her and have stayed by her side every step of the way.
"My mother,  number one, without a doubt. I'm grateful to have a family that has always supported my not so conventional dreams, and that's not the case for many actors, so for that I'm thankful," Pittman said. "My best friend Kolten Bell, who always keeps me in check, inspires me to keep learning, and always spreads positivity to people around him. My teachers at Wagner, and of course Mr. Davenport. Without their faith in me, I would not have made it to where I am today."
One of Pittman's former professors from Wagner emailed her the link to submit a video audition to "The Search For Roxie," which was open to anyone online. Pittman was humbled to have someone she greatly respected think of her for the role, so she decided to submit an audition. The "Chicago" casting team and one of the current Roxie's (Charlotte d'Amboise) looked through the hundreds of videos submitted and chose the top ten. After the top ten were selected, the public voted online to select the top three who flew to New York City for a live audition. When Pittman submitted her audition she was excited that the creative team behind "Chicago" would see her at all, not expecting to ultimately be cast. Since Pittman is not in the Actor's Equity Union it is more difficult for her to be seen and chosen for a show, but this opportunity allowed for Pittman to not only be seen but landed her her first Broadway role as a legendary lead.
"Roxie is an iconic character in musical theatre history. She's funny, she's quirky, she's manipulative, she's a showman, and she's a fighter! I've always admired this role, and having the chance to play her now is a dream come true," Pittman said.
Since Roxie's character requires superb acting, singing, and dancing, Pittman credits her success to her dance training, which the other two contestants struggled with. Remaining well-rounded had been important in Pittman's career since high school theatre, but she did have improvements to make throughout college. Consistent, handwork fine-tuned Pittman's skills and made her perfect for diverse roles like Roxie Hart.
"I think what is difficult is strengthening the areas that are your weaker card. When I went to college I knew I could dance, but my singing was nowhere near as strong. So I worked incredibly hard to bring that up to speed with my dancing, and I'm still doing it today!" Pittman said. "It's all about consistency in practice, especially in the areas you're insecure about."
Pittman is in New York City full time ahead of her Broadway Debut, which the date is currently undecided for. Yoga, dance classes, singing practice, and reading up on "Chicago" is how Pittman will be preparing for the show and developing her character. Pittman hopes to pay homage to those "Roxie's" before her and inspire the young generation of actors to continue chasing their dreams. Being apart of Broadway's authenticity and magnificence has always been a goal of Pittman's, but her ultimate intention has always been to be a working actor. And as advice to young performers who see their dreams as a far-fetched fairytale, Pittman offers the advice of always staying true to yourself.
"Be Yourself… Never try to be someone you're not, or conform to something that isn't true to you. Always find yourself in a role, and that will make it interesting," Pittman said.